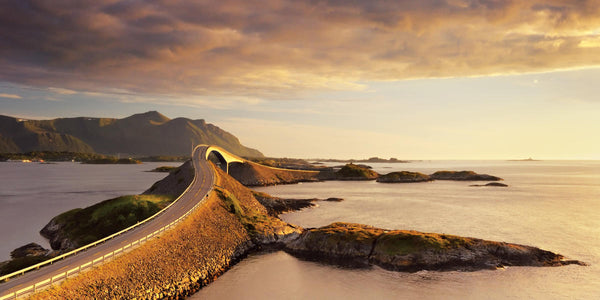 9 surreal locations to longboard once before you die
From time to time, I often fantasize taking my longboard to exotic locations... places that invoke more of a sense of awe and wonder than your typical neighborhood sidewalk.
If you've never gone outside your own city with your board, it's time to branch out a little and stoke your adventurous spirit. Don't be afraid to dream a little... make a bucket list, grab your favorite deck and take a drive. 
You only live once. Make it count. 
#1. Longboard over the Atlantic in Norway
If you like the feeling of lonboarding over bridges and feeling like your flying over water, head over to Norway to experience The Atlantic Road and all it has to offer. 
The Atlantic Road (first opened in 1989) connects the island of Averøy with the mainland via a series of small islands and islets spanned by a total of eight bridges over 8,274 meters. 
This road has been nominated as the Norwegian construction of the century, has made it to the number one spot of 'best road trip location in the world' and is even listed as the best place to mend a broken heart. 
It also happens to be in the vicinity of the 'trollstigen'- which you can read about in our other post titled "most insane longboarding roads in the world". 
#2. Longboard through a bamboo grove
Throughout Japan and parts of Asia, there are special forests full of bamboo trees. One location in particular is known as the Arashiyama Bamboo Grove in Kyoto. It lies just north of the Tenryu-ji Temple, and is considered the most photographed location in the city. 
Although this location may regulate skateboarding, that's not going to stop us from adding it to the list!
3. Longboard in the desert
If where you are has snow on the ground, perhaps it's time to take a break from the cold and go skate the Monument Valley Road in Utah.
Perhaps the most instagrammed road of all time, Monument Valley Road on highway 163 stretches through towering red clay monoliths, sweltering heat and the occasional rattle snake. Yet despite all this, it doesn't stop longboarders come from all over to ride this road just for the sake of photography. 
Photo by: u/connorsurdi
Photo by: @brandonprugh

 

Photo by: @karl_shakur

  
#4. Longboard under Redwoods in Northern California
Take a ride under the worlds tallest trees in Humboldt County, California, where the trees can reach up to 300 ft. 
Be sure to bring your Peter Pan costume. If ever there was a place on earth that could be compared to Neverland, it's here.
Also if you're lucky, you'll spot a 'horde of sasquatches' lurking through the forest in search of unsuspecting hikers... 
#5. Longboard Under Water through St Annas Tunnel in Antwerp
Have you ever wanted to ride your longboard underwater? It sounded impossible, until we discovered St. Annas tunnel in Belgium. 
Built in the 1930's, this bicycle tunnel runs beneath the Scheldt River and takes you to Linkeroever. 
Majestic wooden escalators lead you deep down into a tunnel that stretches close to 1,800 feet, complete with a backdrop of ceramic tiles that decorate both sides of the tunnel.  
#6. Longboard the Tunnel of lights in China
If the underwater tunnel didn't satisfy your underground craving enough, you can also head over to China and ride through the Zhongnanshan Tunnel. 
Located in the Qinling mountains in northwest China's Shaanxi province, the Zhongnanshan Tunnel is an important part of the road network between Xi'an and Ankang. It's one of the longest tunnels in the world!
Because it was so long, China decided to install light shows and decor throughout the fifteen minute long commute, to help reduce driver fatigue. This alone makes the trip worth it as there is almost no  other tunnel like this in the world.
#7. Longboard the Transfagarasan in Romania
For those of you that are getting bored of all the flat spots on this list, not to worry, we've included a few sexy downhill spots as well. Feel free to also checkout our other article titled, "The World's Top 10 Most Insane Longboard Roads".
 According to Wikipedia, "this is a paved mountain road crossing the southern section of the Carpathian Mountains of Romania. It has national-road ranking and is the second-highest paved road in the country after the Transalpina. It starts near the village of Bascov, near Pitești, and stretches 90 kilometres (56 mi) to the crossroad between the DN1 and Sibiu, between the highest peaks in the country, Moldoveanu and Negoiu."
So what makes this location so surreal you ask?
Well for starters, it's Romania. This country boasts having one of the most beautiful Countrysides in Europe. 
Second, this road connects Wallachia with the legendary location of Transylvania (the town once plagued by Dracula). 
And third... just look at the pictures! 
#8. Get your beach bum on in Phuket, Thailand 
For the skaters that need a beautiful destination that has gorgeous roads and white sand beaches... this is the place for you. For reasons unknown, Naithon Beach has been overlooked by most of the resort developers, making it an ideal spot to get away from the crowds and enjoy a quiet swim. 
Skate your heart out on the beautiful roads leading up to the beach. Once you find the ocean, take out a hammock and relax to your hearts content.

If you get bored the area also offers a variety of rocky coves only accessible by long-tail boat and scuba diving, which can be arranged by the dive shop on the Beach Road. 


#9. Longboard a Volcano near Madagascar
Off the coast of Madagascar lies a small island known as La Réunion. It is by far the most remote destination on this list making it the most difficult to get to. It was first skated back in 2016 by James Kelly and Liam Morgan. 
So why here? What makes this spot so special?
La Réunion is home to" The Piton de la Fournaise," a shield volcano on the eastern end of the Island that rises more than 2,631 m (8,632 ft) above sea level and is sometimes called a sister to Hawaiian volcanoes. For the skaters who've fantasized about skating down a volcano, this is the area to do it. 
"On La Réunion everything is rooted in the volcano; every road, every town, every microclimate is a product of it's terrain."
La Réunion Part One: The Place One Never Leaves from Caliber Truck Co. on Vimeo.
La Réunion Part Two: Le Volcan from Caliber Truck Co. on Vimeo.