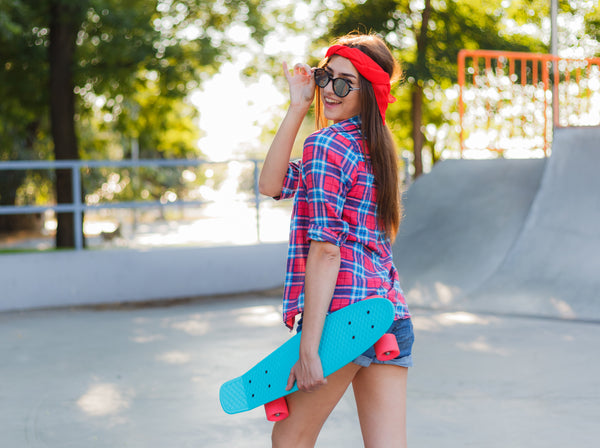 Why Stussy Will Always Be the Skateboarding Brand
When it comes to skateboarding fashion, one brand that is always on the radar is Stussy. Founded in the 1980s, Stussy has become an iconic brand with its surf and skate-inspired collections that are popular not just among skateboarders but also fashion enthusiasts worldwide. In this blog post, we'll explore why Stussy has remained popular among the skateboarding community and how it has become a key part of skateboarding culture.
Started out as a small surf brand, Stussy quickly became a staple brand in the skateboarding world in the late 80s and early 90s. Skateboarders gravitated towards its baggy t-shirts, hoodies and caps that were perfect for skating. Stussy collaborated with notable skateboarders like Lance Mountain, Mark Gonzales and Keith Hufnagel, which established its credibility within the skateboarding community.
Skateboarding and Streetwear

The 90s marked the golden era of skateboarding and streetwear. Brands like Stussy, Supreme, and Zoo York created clothing that was closely identified with skateboarding. The popularity of streetwear trends led Stussy to expand and gain recognition as a global brand. Today, Stussy is one of the most popular streetwear brands and is worn by skateboarders, fashion enthusiasts, and celebs alike.
Stussy and Skateboarding Today

Stussy has remained faithful to its roots in skateboarding. They continue to be a brand that skateboarders love to endorse and wear. Stussy has continued to collaborate with skateboarders on exclusive collections honoring a deep relation between skateboarding and the Stussy brand. The continued support to the skateboarding community has earned Stussy a special place in its heart.
Popularity of Stussy Beyond Skateboarding

Stussy's impact has extended beyond the skateboarding world, with collaborations with luxury fashion brands like Dior and artists like KAWS. Stussy has now become a symbol of street culture synonymous with surfing and skating, which owed the brand it's immense popularity and global impression. This cross-over success reflects how in tune the brand is in fashion culture and contemporary art.
What Makes Stussy the Perfect Skateboarding Brand?

There are a lot of reasons why Stussy is the perfect skateboarding brand. It combines surf and skate culture seamlessly while providing clothing that is comfortable, fashion-forward, and functional. Stussy has maintained its unique style and authenticity, making it a brand that has stayed relevant over the decades. The perfect blend of functionality and fashion has allowed the brand to evolve from a small surf brand to one of the most popular streetwear brands in today's fashion scene.
Conclusion:
Stussy is undoubtedly one of the most iconic skateboard brands in history. Its unwavering support and presence in skateboarding culture has earned the brand a special place in the hearts of skateboarders worldwide. The brand's ability to combine functionality, fashion, and authenticity has helped it stand out from other skateboard brands, while maintaining a close relation to the culture that created it. It's easy to see why Stussy has remained a favorite brand among skateboarders and fashion-conscious individuals worldwide. As skateboarding culture continues to evolve and become more ingrained in global popular culture, there is no doubt that Stussy will continue to be a key part of this growing movement.