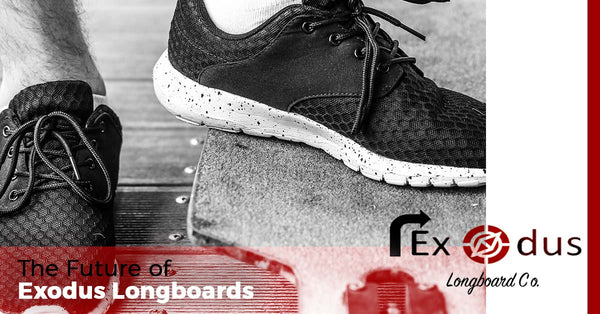 The Future of Exodus Longboards
Welcome everyone to Exodus Longboard Company! Many of you may wonder what it is this business is all about, where things are headed or what makes this store different than any other skateboarding company out there. I wanted to write a little about my story and hopefully this will give you some clarity to why this business was created in the first place, and why you should be excited about where things are headed.
If you don't know me, my name is Dan Kohout, I am the founder and CEO of Exodus Longboards. This is the story of how Exodus really started, it's future, and how this effects you.
In short, the idea of Exodus was brewing since the beginning of 2017. It started as a simple question: "If longboarding changed my life, how can I help it to change others?"
I first learned how to longboard when I was about 15. A friend of mine would let me borrow his board and we would go behind his house and ride this hill in his neighborhood over and over, sometimes late into the night. After I got home, I would lie in bed and dream about that feeling of going down that hill... it was the closest thing a poor teenager could get to feeling like I was flying. When I finally got my own, it became more than just a hobby, it was part of what got me through the toughest times in my life. Anytime life started to feel overwhelming, nothing seemed to help me clear my head like going out for a ride.
At the end of my high school career, my board was falling apart. The design on the bottom was un-readable, the trucks were rusted, and the wood was splintered and ready to snap. I knew it was time for a new board. I looked for weeks scrolling through products on all kinds of skate websites looking for the perfect ride... but I didn't find one. Sure there were some awesome designs out there, but nothing really felt like me. So, instead of coping with the corporate companies, I bought a blank deck and painted my own. People thought it was so cool they started asking me to paint theirs too! Most of them didn't know anything about longboards, so I ended up helping them pick out components for their new decks, and even teaching some of them to ride. Thus Exodus was born.
It was fun for a while too. I got to see how these decks I was making for my friends were actually making a difference in their life. It became something for them that they could show the world "this is who I am". It wasn't just an ordinary deck, it was as original as the people I made them for. But I realized I wanted to make this something that would be able to effect the world, not just a few people. That's why I created this business.
See, If you really consider yourself a longboarder- your board should be something that connects to you at your core. For me, my deck is one of my most valued things I own... it's the doorway to my secret place, the vessel that let's me be free from stress and the mess of life. I believe a big part of what makes it so special is the design aspect of the deck. It's the art people see me carrying around that helps them understand who I am, even from a distance. This is why I create decks for other people as well- because I WANT to empower you to be unique. There's no one like you on the planet, so BE YOU. Ride a deck that actually has meaning to it, that tells the world that your different and that's how you like it.
The other part I believe that makes these decks different and WAY better than a corporate deck is the stories that come with them. As the business grows, we are working on partnering with organizations dedicated to changing the world. The dream is to be a business that will be helping anti-human trafficking orginizations, people with mental illness, and talented artists from poorer countries. So when you buy from us, know that you aren't feeding a corporate giant, you ARE making the world better.
Stay tuned for more info and watch our store, we will be expanding very soon, so be excited for the changes coming! 
Thank you for your time and support, I hope to make an impact on you as the journey of this store unfolds. If you have a cool story of how you started longboarding, feel free to post it in the comments section, I would love to connect with you.